The Ultimate Magic Show and Balloon Twisting Workshop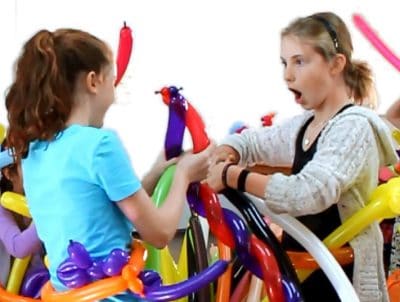 The 1hr and 15min Ultimate Magic Show and Balloon Twisting Workshop will do this and more!
Krystal entertains the group with a 15 minute magic show that will blow the children's minds. During the next hour the children will learn to make a balloon sword, balloon dog, a mystery object and a C-R-A-Z-Y hat! It is best suited for 5 year olds and up. Children can let their imaginations run wild, while learning a new skill.
Learning to balloon twist has never been so much fun!
This package is perfect for company family days, corporate fun days, schools, church groups, day care centres, shopping centre shows, as well as private parties. It is especially great for those big events where there are lots of children that need to be entertained. It is also great for adults in a party setting or for team building activities in a corporate environment.
Who doesn't want to try some balloon twisting, even just once?
The Ultimate Magic Show and Balloon Twisting Experience is colouful, noisy, extremely photogenic and very, very memorable! It gets people mixing, laughing and talking at your event and about your event!!
For a tailored quote and more information please contact Krystal. Please include the location and date of event and the estimated number of children that will be attending.