Glitter Tattoo Party Package
Glitter tattoos are a great addition to any event, especially those which have a water element such as a pool party!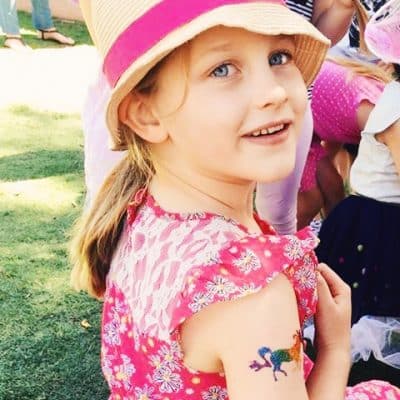 1hr: Recommended for less than 15 kids – $170
1.5hrs: Recommended for less than 22 kids – $220
2hrs: Recommended for less than 30 kids – $270
One of Krystal's Kids Parties Team can entertain at your event or book Krystal herself!
Your entertainer can dress up in costume or wear Krystal's Kids Parties colourful uniform.
Limited Special Bonus:
Do you want to add a fantastic, creative, imaginative and unique kids craft activity to your party?
Do you want to occupy the kids while they are waiting, with a fun activity?
We have got the perfect solution!
Introducing our Hat Decorating Craft Activity!
Allow your big and little guests to create their own hat that they get to take home. We supply brand new white baseball hats and markers and your guests get to let their imaginations run wild creating their uniquely designed hat.
What happens if the kids make a mistake or get bored of their design? Just put it in the wash and start all over again. The fun and creativity never stops!
What is included:
12 brand new, white baseball caps (can fit 4 years plus)
15 assorted coloured markers
Price:
$75 total. Your entertainer brings it with her on the day.
Each extra hat is $5 each.
This is a diy activity whereby we deliver all the craft materials you need, so you can run the activity yourself. We also offer party packages with a craft supervisor – please enquire for a quote.
Once delivered, you keep everything.
If you love this idea but can't fit it into your party due to time constraints or location issues, we can make these up as party favours! Check these out at Unique Craft Favours.