Do you want an alternative to lollies for your party bag?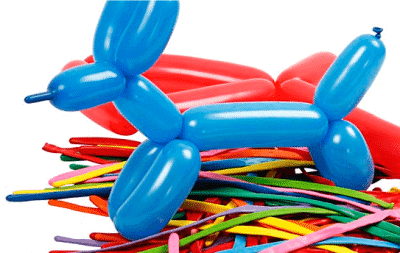 Do you want to give your guests something that is fun, creative and develops a skill?
Why not give them a balloon twisting activity to take home with them?
We provide Balloon Twisting Party Bags as a super fun party favour.
Each guest receives a top quality balloon pump and 50 professional quality modeling balloons to twist up their own creations at home!
What is included:
12 brand new, double action hand pumps
600 assorted coloured professional quality modeling balloons
Each pump and 50 balloons are individually placed in their own bag for your ease. Also included are simple instructions to make several balloon twisting designs.
Price is $216. Each extra favour is $16 each.
No need to be sad the party is over – your little guests get to take the party fun home with them!  The fun and creativity keeps going!
This equipment is professional grade making twisting easier and more fun than the cheap versions at the dollar store.
Delivery is free when entertainment is booked with us. Otherwise a delivery fee applies or free pick up is available.
Contact us to order now as this is a limited offer.